Discover Christmas

Study the birth of Christ and discover the magic of Christmas!
Discover the Book of Mormon

Curriculum to supplement your 2024 Come Follow Me study!
Not your grandma's scripture study
Crafted by a curriculum development specialist with a PhD in education, the Discover the Scriptures series is more than a scripture study plan. Our curriculum has been carefully curated to enhance every child's intellectual learning and development through the scriptures and the restored gospel of Jesus Christ. Discover the Scriptures today.
What parents are saying
My nine-year-old son now loves the Book of Mormon and has become intimately familiar with its heroes and stories, all as a result of your Discover the Book of Mormon. We tell all of our friends about your products and everyone who has ordered it loves it too.

Sheryl
Thank you so much for creating and providing this to our children. Just the other day we invited several other families to come over our house to view a movie. I overheard a conversation between one of my sons and another child. The boy was telling my son that he was so smart because he always has all of the answers in Sunday school. I looked at my wife surprised. I later told her that I guess all the hard work has paid off.

Sean
My whole family loves Discover the Latter-Day Prophets! It has enriched our history studies while strengthening our testimony of prophets. We learn about these men who God prepared throughout their lives for the sacred calling they would hold, and best of all, the work and research was all done for me.

Christine
Look Ahead to the New Year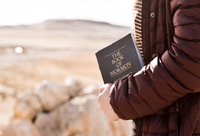 Learning proven by thousands
Join the thousands of families that have embraced the learning experiences found in the Discover the Scriptures curriculum and activity books.